Project "Implementation of LED street lighting in Berezovsky district using automation and control systems"
In 2015, the Berezovsky district joined the Covenant of Mayors initiative. In 2016, an action plan for sustainable energy development was adopted
of energy-saving technologies in all industries;

of alternative energy sources;

building energy efficient housing;

the development of urban mobility and improvement of public transport will allow Bereza to fulfill the obligations of the Covenant of Mayors.
Project results:  

-CO2 reduction;

-reducing the cost of the budget for street lighting;

-reduction of electrical energy consumption.
Social effects of the project:

     

- improving the conditions and comfort of living of citizens;

- improving road lighting conditions;

-improving the reliability and durability of street lighting networks; 

-improving road safety;

-improving the level of improvement of the area;

- increasing the level of satisfaction of the local population with the quality of street lighting.
Budget:

Overall € 775 044

European Union contribution (80%) € 620 000
Implementation time: September 2018 - November 2020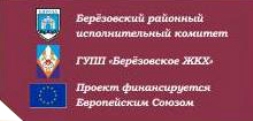 Stages of implementation:

- energy audit of street lighting;

- design;

- carrying out the procedure for purchasing the necessary technological equipment;

- equipment purchased;

- conducting the procedure for purchasing equipment installation services;

- installation of technological equipment.